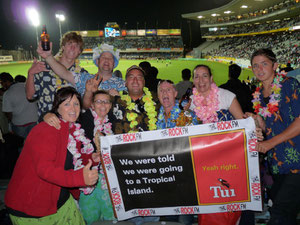 Yesterday started our Roadtrip to Auckland to the Cricket Match between India and NZ... We left Mt Maunganui at 6pm and had a ride of about 3 hours before us. Our topspeed was about 100 to 110 km/h. :-D... The speedlimit all over NZ is 100km/h, so compare to Europe nothing.
But finally we arrived in Auckland at 12 o'clock...I sleept on the couch, to tired to go to bed..
The next day was the Cricketgame, which was just fantastic altough without knowing the rules...
The atmosphere was perfect and the stadium was remarkable...
It was a great weekend!!!