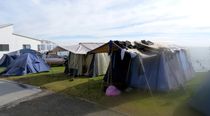 From the 28th of June to the 3rd of May took the Kitesurfing-Camp from the ODE-classes (Outdoor Education) place. It was a fantastic week with a lot of fun and adventure. The 7formers taught the 6formers flying kites, safety aspects and how to treat the stuff correctly.
We hadn't got a lot of days with wind but we always had fun.... :P
THE Camp-ACTIVITIES were kitesurfing, fishing, surfing, rugby, cards and .....