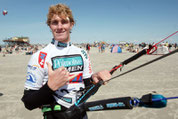 From the 24th of July to the 2nd of August took the Worldcup "PKRA" place on the beach in St. Peter Ording.
I competed against the best Kiteboarders of the world, and was really happy of my great success.
I became 10th in Racing
Click here for the whole story!!!