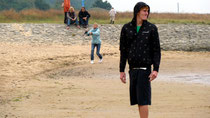 This weekend from the 18th to the 20 of Sept. took the annual event "Hängt ihn Höher"" or in English "Put it higher" place.
About 100 riders were registered for the event, where the aim was to jump higher than the rest..
The windforecast looked really bad but there were also some other activities, which made the event perfect. The partys, the sun, the music and some actions with the winch.
It was also represented by some exhibitors like Anton Kiteboards, North, Best, Nordsee Kitesurfing and a few more....