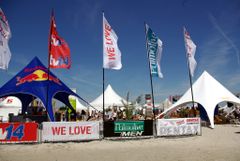 This year's PKRA was a total success. We had 9 days of Wind, Sun and a lot of Kiteboarding. In the first 2 days we had the qualification for the freestyle, on which I was kicked out in the second round.
The racing was quite better. After 11 races, with partly 18 knots and huge waves, I became 22nd place of 63 participations.
It was all a lot of fun and I'm already excited about next year's PKRA.